Grossly Unfair High-Interest Loans are Common in New Mexico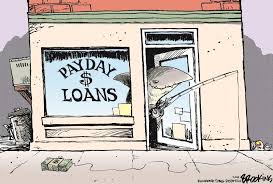 Twenty percent of New Mexicans have taken out a payday loan.  If you're not rich and have an unexpected financial emergency – someone gets sick, the car breaks down, you and your partner break up and you have to take over all the bills – then you may not be able to make it to the next payday.  There are more payday lending locations in New Mexico than there are McDonalds.  They are very common in poorer neighborhoods.  They are concentrated in border towns like Gallup and Farmington.   They are thick right outside of armed services bases, like on Gibson Boulevard in Albuquerque adjacent to Kirtland Air Force Base.
Payday lenders make it seem like it will be easy to take out a quick loan for a few hundred dollars to bridge the gap to the next payday.  But the price is steep.  New Mexico does not have a general usury cap.  In other words, there is no general limit on the interest rate that can be charged.  Some New Mexico high-interest lenders have charged interest rates of 1000% or higher.  The payday lender's goal is often not to offer one-time help to get you back on track.  Rather, payday lenders use tricks and traps to keep "rolling over" the loan, in an effort to have you keep paying interest at the outrageous interest rate for as long as possible.
New Mexico does have a law, specific to payday loans, that limits the interest rate to 404%.  But once this law was passed, many high-interest lenders changed the terms of their loans so that the loans would not be considered "payday loans" under the new law, even though they continued to be marketed to those with few options and in need for immediate cash.  By taking the loans outside of the narrow definition of "payday loan" as set forth in the new law, these lenders continued to charge interest rates over 404%.
Another tactic has been for high-interest lenders to abandon storefront locations and exist only on the internet.  For the past eight years, Treinen Law Office has been pursuing a class action on behalf of New Mexican consumers against an internet payday lending enterprise that charges 521-730% interest.  This enterprise has made loans using many names over the years, including Ameriloan, Paycheck Today, Cash Advance Network, United Cash Loans and US Fast Cash.  When the enterprise began, it was operated by Charles Hallinan and two brothers, Scott and Blaine Tucker.  They allegedly started cheating each other and, at some point, split off into different camps.  As the consumer complaints mounted, in order to evade state consumer protection laws, they falsely claimed to be associated with Native American Tribes in an effort to make their enterprise immune from state court lawsuits.  Scott Tucker and his attorney were recently indicted by the United States Attorney for the Southern District of New York, the same prosecutor that went after Bernie Madoff.  Charles Hallinan has also been indicted, in a separate indictment brought by a different prosecutor.
New Mexico courts have taken a stand against predatory high-interest loans.  The New Mexico Supreme Court has decided that despite the lack of a general usury law and despite the efforts by the lenders to evade the law specific to payday lending, New Mexico consumers deserve protection from these predators.  In a lawsuit brought against B&B Investment, the New Mexico Supreme Court held that a short-term loan at 1,147% would not be tolerated.  The Court held that because the interest rate was unconscionable – that is, unreasonably unfair – it would not be allowed.  As a result, any interest paid over a 15% rate was ordered returned to the consumers.
Just because you needed the money, lenders are not allowed to take advantage of you.  If you are trapped in a high-interest loan, be it a payday loan or a title loan, Treinen Law Office is experienced in obtaining justice for people just like you.  We are happy to review your paperwork and listen to your story to see if we can help.